Biking Fit for a King
For immediate release
You do not have to qualify for the Tour de France in order to get a breathtaking view of the picturesque French countryside. Why not start in the Loire Valley, where bike paths are becoming all the rage for those who like to travel in the outdoors. With over 300 kilometers of bike trails, of which 30 km are for cyclists only, using a bike will be a more accessible way to tour this amazing region. Whether you are a beginner or a trained professional, the bicycle paths of the Loire Valley will accommodate you.
For the more experienced biker with a thirst for adventure and new sights, choose from a wide selection of 11 itineraries based on 70 kilometers of newly paved routes and 200 km of smaller less traveled roads. Some themes include Sounds and Sights of Autumn and Window on the Loire. These itineraries allow the cyclist to explore some of the Loire Valley's hidden treasures and to steer away from the traditional tourist track. Pedal to the small village of Cellettes and examine the 18 different chateaux or to the Solonge to take in the beauty of France's lakes and wildlife.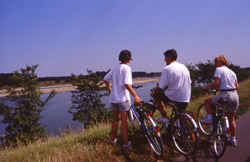 And for the directionally challenged, signs are set up along the paths so you can easily follow your itinerary. These signs also lead the way to parks, major attractions or bike sheds so you can keep the map at home.
In order to fully enjoy being outdoors in Mother Nature, the Loire Valley is sure to protect the environment in any way possible. With the construction of cycle "green paths", the biker can ride on a smooth skid-free surface. These paths, which blend better with nature's true colors, are environment friendly. Finally, with the "Vélotel- Vélocamp-Vélogite" program, cyclists are given a brochure of hotels, Bed and Breakfasts, and camping
grounds that find ways to help cyclists in any way possible. So before you decide to pack up a car for your vacation, think of the fresh air blowing against your face, the lush countryside surrounding you and the sound of pedals on the bike trails of the Loire Valley region.
Region Highlights - Gastronomy, Sports and Leisure, Tours of the Loire Valley, Art & Culture, and Directions to the Loire Valley.